According to a Google study, 91% of consumers who have made a purchase in a shop have done an Internet search beforehand.
Adopting a web-to-store strategy has therefore become essential for a brand that does not have its own sales outlet but works with a network of distributors. This strategy consists of generating more traffic in your retailers' points of sale by converting web visitors into physical customers. Being visible on the internet for a brand is essential to improve the customer or prospect journey and to allow them to find your retailers in 1 click.
We reveal 5 reasons to undertake a web-to-store strategy on Google Business Profile as a brand.
1. Increase your visibility by boosting that of retailers
The search experience has changed dramatically, especially since the health crisis. Consumers are increasingly relying on the digital channel to make a purchasing decision. It is therefore essential that key information is available and visible on all touch points for internet users (search engines, local directories, social networks, your website, etc.).
90% of consumers report using a search engine at every stage of their customer journey.
But how do you get visible? If many brands today are not yet aware of the importance of online visibility for their overall performance, some are already convinced but do not know where to start. The answer: build a real local SEO strategy to attract new customers to your retailers.
When launching this strategy, it is necessary to start by focusing on the resellers' Google Business Profile.
The more optimised their Google listings are, the more likely they are to appear in the first search results. There are still too many royalty-free listings on Google, i.e. without an owner to manage them. These are usually easy to retrieve and should be your priority.
For example, the 693 French opticians in the network of our partner Essilor, the world's largest manufacturer of ophthalmic lenses, have obtained significant results thanks to the work carried out on their listings: +94% appearance in indirect searches (without mentioning the brand, e.g.: optician Limoges).
2. How to improve brand awareness
Now that you are helping to manage your resellers' Google listings, it is essential to work on your brand awareness on the Internet in order to guide your prospects' purchasing decision as much as possible. Making it easier for all your prospects to easily recognise your brand.
Today, 50% of local searches (searches with a geolocation criterion) on Google contain the name of a brand. For example, "Husqvarna România".
Your resellers' Google Business Profiles are the first image a customer has of your brand when searching for its name on a search engine. There are several ways to make your brand visible on these profiles, you can add :
your brand name in the title of the listing,
your brand logo in the photos,
elements of your brand in the description.
3. Increase the number of communication channels
These Google listings are communication channels that you can use to promote your brand in a way that is different from your competitors. You have 100 distributors? Then you multiply your communication channels by 100.
Use these channels to publish posts, for example, as you would on a Facebook or Instagram page.
Google now gives you the possibility to share your news, offers or events directly from these listings.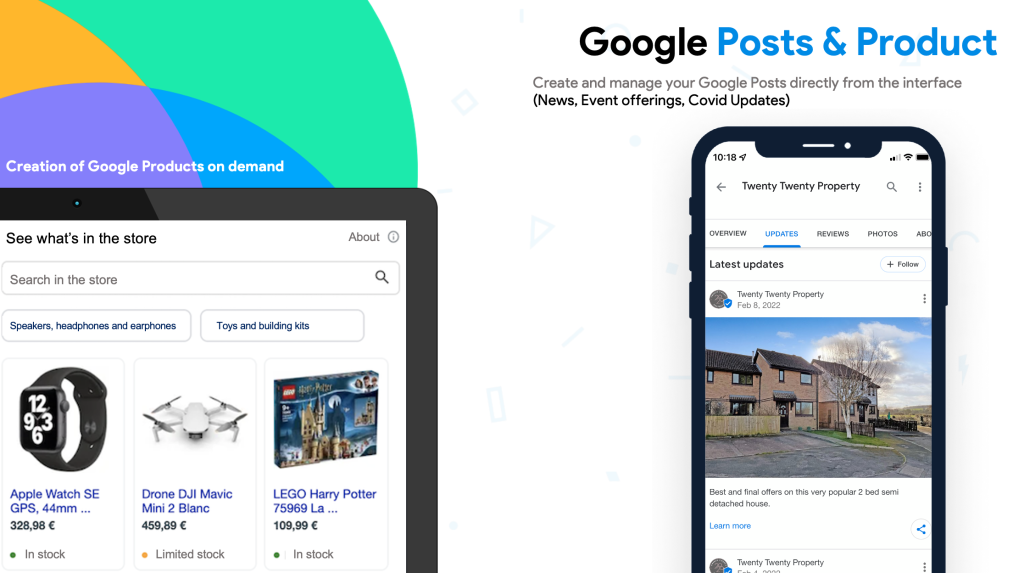 For example, if you're running a promotion for your retailers in a specific region, you can target these establishments and communicate on this offer directly from their listings.
Similarly, if you launch a new product, you can promote it on all your resellers' listings through Google Posts or by creating Google Products. This Google feature will allow you to associate a price with them and display them even more clearly on the Google listings.
This way, you increase your visibility and can control the communication of your offers, news and products through your reseller network.
4. Collect and analyse data
Google Business Profile is a tool that allows you to analyse the performance of establishments via various statistics made available by the platform. You can study the traffic and contacts of each of your resellers according to their size, geographical area, seasonality… and optimise each of your advertising campaigns!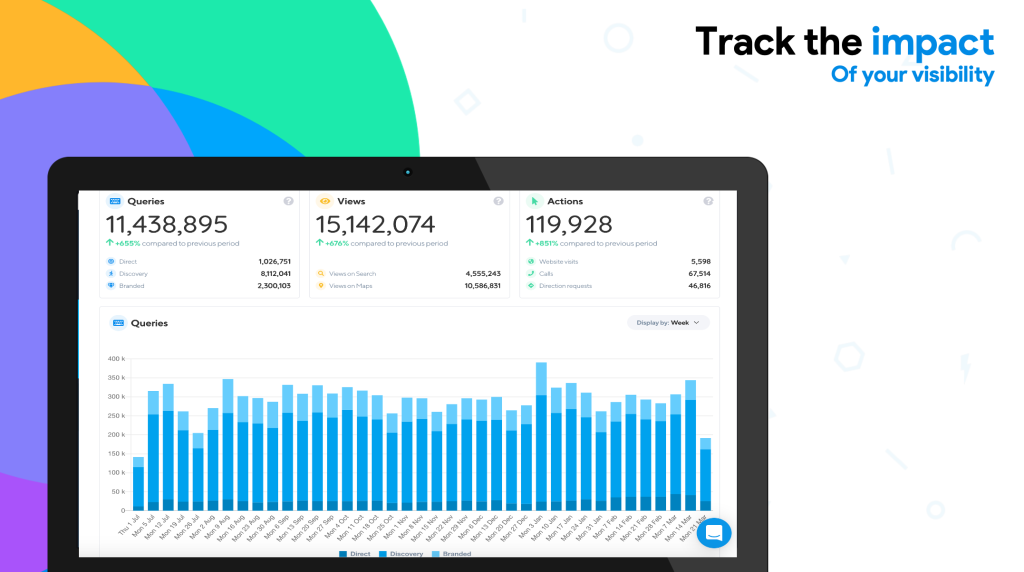 Through statistics such as the number of appearances in Google Maps and Search, the number of calls, clicks on the website or requests for directions, you can then compare these statistics and the turnover generated for each shop that has benefited from a good optimisation of its listing.
The Husqvarna brand, for example, found that 40% of queries to find their outlets contained "Husqvarna"
5. Become a trusted partner to a network of resellers
As a brand, it is essential to develop a relationship of trust with your distributors to make your relationships as long-lasting as possible. By providing a quality service to your network, you will achieve better retention of your members. By being the first to take charge of this web-to-store project, you will distinguish yourself from your competitors by helping them to increase their turnover.
It is necessary for a brand to innovate in its trade marketing and to offer a wider range of services to its distributors. By accompanying your network in the digital transition, you show them that they are right to invest with your brand in order to develop their business. Many brands still use traditional local referencing solutions, but they should not abandon them but redirect their trade marketing budget towards local digital to innovate and help their partners to become digital and differentiate themselves.
Finally, all these elements give you a competitive advantage and position you in the first Google search results. You generate drive-to-store among your retailers and therefore an increase in your turnover.
With this strategy, you broaden your audience by attracting new profiles thanks to your visibility on the Internet and build customer loyalty by fostering closeness in your relationships.
Do not hesitate to contact us if you have any questions or if you wish to implement all these actions.